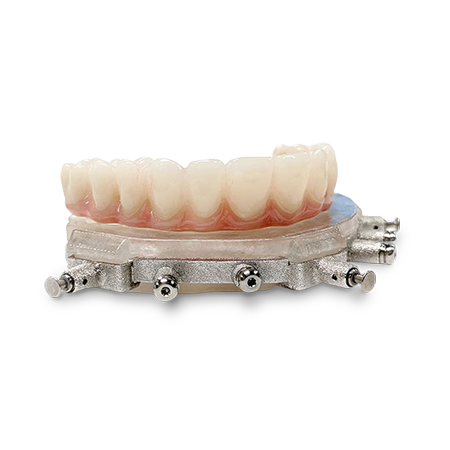 GuidedSMILE™ CHROME™
GuidedSMILE™ CHROME™ was developed for dentists who desire a preplanned, predictable guided All-on-X style surgery. Most cases simply require a CT scan and traditional records. The process, product, and surgery are straightforward for a streamlined process. Our Elite Implant Solutions team is excited to bring this innovative process to our clinicians so that they can ensure high patient satisfaction for every case.
Provided Parts
Anchored Bite Verification
Anchored Bone Reduction
Anchored Site Drilling
Accurate Anchored Provisionalizaton
Transferrable Surgical & Restorative Info for Final Conversion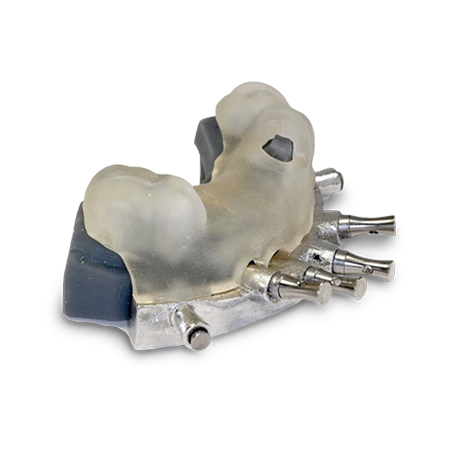 Dentate Pin Guide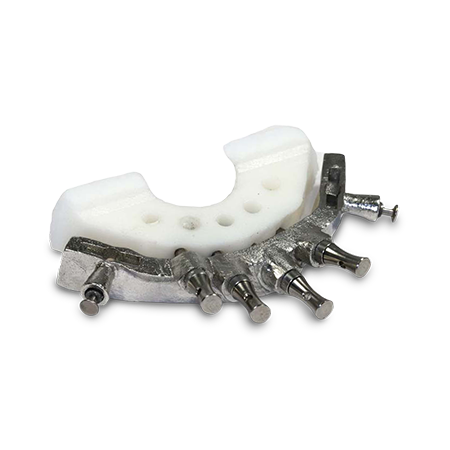 Edentulous Pin Guide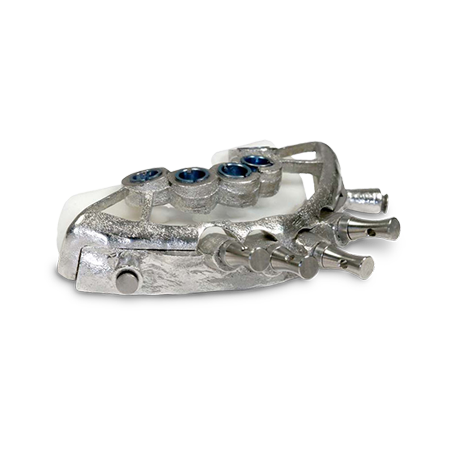 Edentulous Pin Guide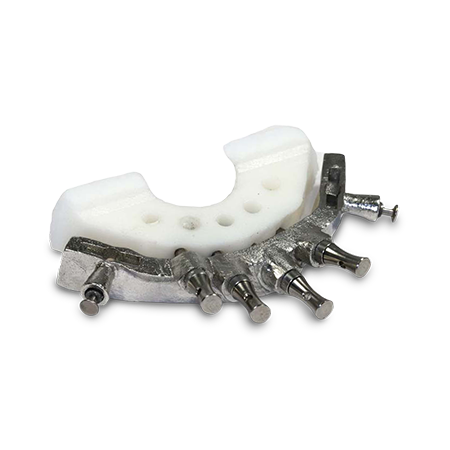 Chrome-4-Final-Guide.png
1. Pin Guide
The pin guide utilizes available teeth and tissue to deliver the fixation base (CR)CO SLM)
Dentate Pin Guide: This guide is fully seated on the patient's existing dentition. Once verified via the two occlusal windows, the horizontal sites are drilled and anchored. Anchor pins are fully seated, verified, and the guide is removed.
Edentulous Pin Guide: This guide is a digital duplicate of the patient's existing denture. This tissue-supported guide is inserted, patient closes, and the anchor sites are drilled, anchored, verified, and the guide is removed.
2. Bone Reduction
The fixation base is used for bone reduction, which aids in anchoring the osteotomy guide and prosthetic.
Fixation Base: Once teeth are removed and tissue is flapped, the bone reduction guide is inserted, anchored, and the bone is leveled to meet the labial and lingual frame of the guide. This guide floats above the bone, and therefore should not be impinged by undercut.
3. Final Guide
The osteotomy guide allows you to quickly and accurately place implants prior to attaching a nano-ceramic provisional.
Osteotomy Guide: This guide is rigidly fixed with pins yet floats around the bone. Standard protocols are followed to drill sites and place implants.
Nano-Ceramic: Superior to conventional denture pick-up systems, this anchored GuidedSMILE™ CHROME™ nano-ceramic provisional transfers the CO/CR as determined by pre-surgical records. Implant abutment positions, anchor sites, tooth position, smile, and tissue space are all pre-set.